How Voodle makes managing teams under quarantine easier
April 24, 2020
2020 was declared the year of the remote worker long before COVID-19 drove us into our homes and onto our webcams at unprecedented rates (Zoom saw daily actives skyrocket to over 200M in March from 10M in December). While we all strive to find the surprise positive benefits of WFH-life (no commute, sweat pants, mid-day workouts, and healthy homemade lunches to name a few), there are also challenges, especially when managing teams remotely. Here at Voodle, we have found our short-form video platform has been a helpful tool in addressing two of the biggest pitfalls in keeping remote teams connected and productive.
Pitfall #1: Loneliness
Just below drawing the line between work and personal time, loneliness is the single biggest struggle remote workers experience according to the 2019 State of Remote Work report. It's also a dangerous and growing epidemic that public health officials are taking quite seriously. Unfortunately, most remote managers are missing the boat on this topic. In a recent study, they reported being most concerned with reduced employee productivity while employee loneliness fell dead last in the ranking. That said, there are managers who are looking to address this challenge. They often institute virtual happy hours and other social events via video conferencing to enhance team connectedness. While popular and effective, they usually only happen weekly and attendance is optional which means certain groups like family caregivers are often left out. In addition, with the proliferation of video calls throughout our workday, finding other methods of connection is important. Asynchronous short-form video is a great tool to engage and connect teams without disrupting everyone's schedule for yet another video call. At Voodle we have daily voodle challenges where the team shares everything from their WFH office to their latest product idea, on their time. The Voodle Pool fills up throughout the day and checking out everyone's entries brings us closer together in a very real way.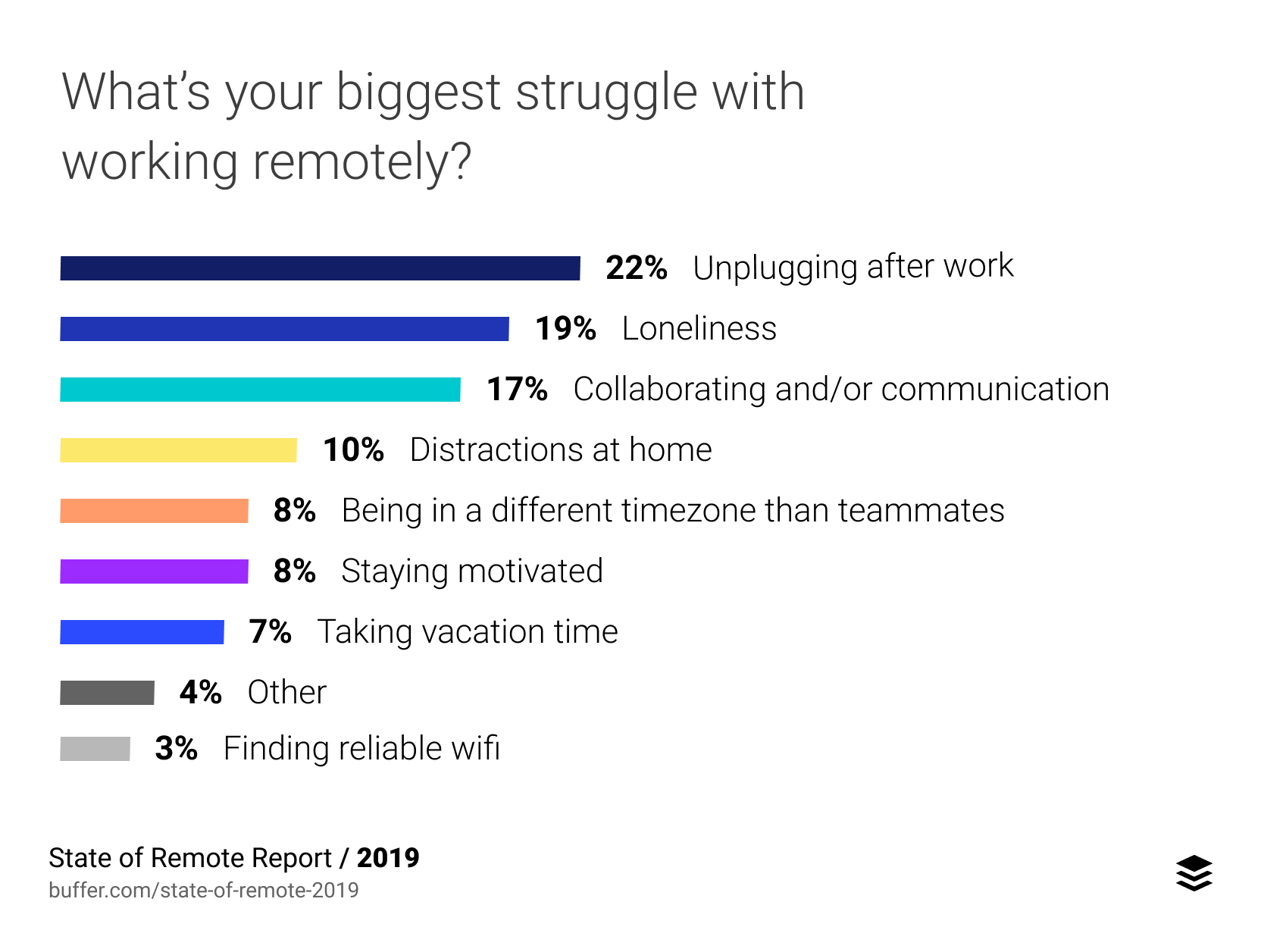 Pitfall #2: Misalignment
Slack's State of Work report shared groundbreaking data around the importance of what they call alignment – feeling connected to company's vision and strategy. Remote work can chip away at that connection, leaving us unsure as to whether the work we are doing is important or not. Video calls are again often the first line of defense against this challenge but requiring a team to stop everything to join can negatively impact productivity. Again, Voodle can help! Leadership – whether that's a team leader or the CEO – can share daily focus, inspiration, and enthusiasm with the group to ensure everyone's day starts with a high level of alignment and accountability. While a message in slack may convey the same information, a voodle provides more emotional context and leaves nothing to interpretation in terms of meaning or subtext. Plus, the voodles go into the pool and can be searched and accessed later. No matter your time zone or personal situation, everyone gets the same message.
Research has found that a lack of "mutual knowledge" among remote workers translates to a lower willingness to do things like give coworkers the benefit of the doubt in difficult situations. Harvard Business Review's recent guide on managing newly remote employees encourages the use of video and states "Visual cues allow for increased "mutual knowledge" about coworkers and also help reduce the sense of isolation among teams." Your company's voodle pool is a goldmine of important mutual knowledge that can keep your teams in synch.
Video conferencing and messaging platforms have improved employee productivity for years and their importance has escalated amid the COVID-19 crisis. Platforms like Slack give us control over how we engage with our coworkers and get the information we need. Video calls give us important connection points and context. Voodle provides another important tool in a manager's arsenal especially when managing teams remotely. It's asynchronous, providing Slack-like control, with the added context of Zoom. It's the BEST OF BOTH WORLDS.